Master Point Rope Access Training
Rope Access Course and Certification
We are a company member of SPRAT (Society of Professional Rope Access Technicians) and provide all levels of SPRAT training/certification. 
Our training team specializes in custom industry-specific training using only the best quality gear and ropes.
Training Locations and Facilities 
Our main training location is located in Superior, Colorado at Mountain View Fire Station 5, 2701 S Indiana Street,  Superior, CO. 80027. Our other facility is located at GME Supply in Columbia, MO. 1391 E. Boone Industrial Dr. Columbia, MO. 65202.
We not only offer training at our facilities but also provide training at clients' preferred locations.
Course Details and Instructors 
We provide instructors that are SPRAT level 3 certified and who continually work in the rope access industry.
These instructors provide quality training using a practical and theoretical approach.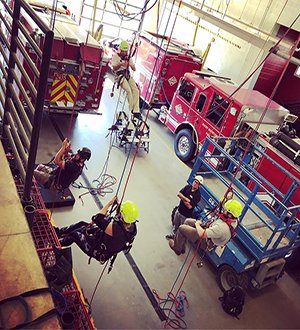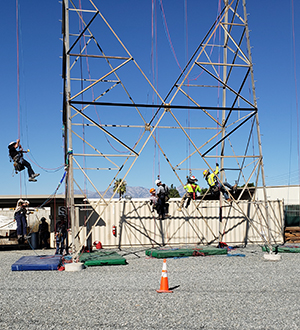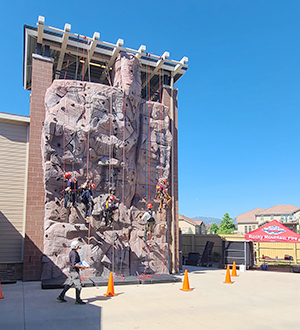 SPRAT Training Levels and Requirements
SPRAT Level 1 Training
No prior rope experience is necessary. This level 1 course covers all the basics for a rope access worker to safely complete rigging projects and rope access jobs.
In this course technicians will be learning soft skills such as a basic understanding of job site safety and hazard awareness, as well as hard skills such as ascending and descending ropes, moving laterally from one set of ropes to the other, inspection of equipment, aid climbing, rescues from rope and hauling to name a few.
SPRAT Level 2 Training
If a technician is already a SPRAT level 1, then she or he shall provide proof that they have achieved a minimum of 500 hours on rope/rigging and have at least 6 months of work experience. If the technician wishes to test directly into level 2 without having taken a level 1 class, then the technician shall provide documented experience of working with a two-rope system for at least 500 hours. This documentation shall be verified either by a Rope Access Program Administrator, Rope Access Supervisor or a Client.
In this course the technicians must meet all level 1 requirements as well as have a deeper understanding of rigging along with some more complex hard skills such as rescue from aid climbing and load sharing anchors.
SPRAT Level 3 Training
This level 3 course is the highest level that can be attained. To qualify for this course the candidate has to be a level 2 certificate with a minimum of 500 documented hours as a level 2 technician and worked as a level 2 for at least 6 months. If the technician is already a SPRAT level 2, then she or he shall provide proof that they have achieved 500 hours of work with a two rope system as well as 6 months of work that has been documented by either a Rope Access Program Administrator, Rope Access Supervisor or a Client. 
The technician must meet all the requirements of a SPRAT level 2 as well as have a more comprehensive understanding of rescues and rigging.
Rope Access Course Cost  and Registration
The rope access course investment is $1595. This price includes the SPRAT certification fee, lunches, and all necessary PPE for training and certification. To hold your space we ask for the full amount of $1595.
Cancellations made within 7 days of the class start date will incur the full class fee.
If you are ready to get your SPRAT certificate or just need a refresher in rope access skills, register by clicking on the button below!
If you are a rope access technician or if your work at height staff needs training contact us at 833-672-9377, ext. 2 to coordinate a date and location.
Frequently asked rope access course questions 
Do I need to bring my own gear to the course?
No, Master Point will provide all necessary PPE for the class.
Do I need to prepare for the course?
Yes, one should make sure that they are not only physically capable of a full work week hanging from rope but they also must have thoroughly reviewed the necessary SPRAT documents that are available for download here: Publications | SPRAT!
What kind of clothes do I need to wear?
Wear comfortable clothing, closed-toed shoes are required. During all courses for the immediate future, face masks are required to protect you and your fellow technicians from COVID-19.
Any other questions that are not listed here?