Master Point Rope Access Projects
Over the years Master Point has accomplished many projects for their clients. Their work includes inspections of major structures such as dams, window cleaning, repair work on wind turbines and more. Read more to find out more about Master Point's latest projects.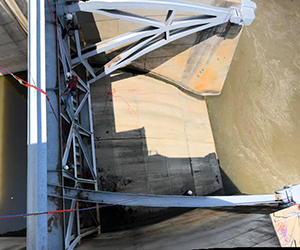 Inspection of Proctor Dam
Project Details:
Performed cleaning of accumulated debris in trunion arms and gate faces as well as UTSW NDE of critical welds. Also provided rigging, job site management and rescue services for all site personnel.
Location: 
Comanche, Texas
Client:
Army Corps of Engineers
Wind Turbine Maintenance
Project Details:
Repaired blade damage and replaced noise dampeners on turbines.
Location:
Midwest (Wyoming, Iowa, Oklahoma, Vermont)
Client:
International Wind
Building Maintenance Project – Chihuly Garden Glass House Window Cleaning
Project Details:
Inspected fall protection anchors and performed cleaning of heavy grime build up working around and above delicate artwork.
Location:
Seattle, Washington
Client:
Chihuly Gardens
Inspection Project – Cement Silos
Project Details:
Performed defect surveys and repairs of a historic cement silo interior and exterior including core samples and concrete patches.
Location:
Canon City, CO
Client:
LafargeHolcim
Building Maintenance, Installations and Retrofit
Project Details:
Removed existing neon lighting for channel letters and installed new LED lighting system.
Location:
Cherry Creek, CO
Client:
Forum Building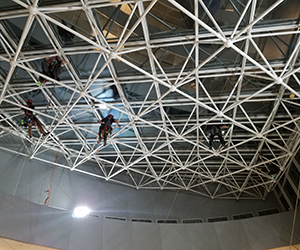 Atrium Maintenance
Project Details:
Performed inspections and various maintenance tasks on atrium space frame including torquing support struts, realigning curtain wall spacers, cleaning suspended artwork, lifting and testing fall protection anchors, relocating suspended artwork support cables to new anchors, removing old fire alarm system components.
Location: 
Denver, Colorado
Client:
Great West
Inspection Project – Rockfall Inspection Support
Project Details: 
Provided support for annual inspection of Red Rocks Amphitheater rock faces. Additional care was required to protect park property and the public while still completing the project on time and budget.
Location:
Red Rocks, Colorado
Client:
The Yenter Companies
Inspection Project – Gross Reservoir Inspection Support
Project Details:
Supported geotechnical engineers to inspect and perform acoustic testing of rock face surrounding reservoir dam. Master Point provided rope access as well as drone inspection support.
Location: 
Gross Reservoir, Colorado
Client:
AECOM