Simple, Safe, Secure: This Is Where It All Comes Together.
Wind Industry
Renewable power generation is the fastest growing energy sector in the United States. To keep your investment running smoothly and efficient Master Point Rope Access Solutions offers a myriad of services from blade inspection/retrofit to cleaning and coating.
Petro Chemical Industry
The petro chemical industry is one of the oldest industries in the United States. Because of this, the need to inspect all aspects of a facility is paramount.
Bridges and Dams
Bridges and dams are a vital component of our country's infrastructure. These structures need constant inspection and evaluations in order to keep our populations safe.
Theme Parks and Facades
Whether it's your place of business or a place to relax, these structures need constant inspection and maintenance in order to operate smoothly and safely.
Completing the most challenging jobs and inspections in the vertical world safely, quickly, and affordably. We accomplish this by providing you with the most innovative solutions. We save you time and money by efficiently accessing difficult, complicated, or delicate work areas. Whether you have an emergency project that just came up, retrofit or routine inspection, our minimal footprint and "Leave No Trace" far surpass any scaffolding or crane option. As we like to say in our work….. "Simple, Safe, Secure".
Full building envelope services and inspections
SPRAT Level 3 safety consulting and supervising
Bridge inspections and rigging services
Wind on and off shore services
Petro chemical rope access and testing services
Theme park rope access inspection and testing services
Tanker ship rope access services and testing
On-site SPRAT training and certification
Rope access is a work positioning method using practical rope techniques at-height to allow workers to safely & quickly work in vertical environments such as cliffs, buildings, & towers. Because fall protection is an integral and automatic part of rope access, it offers increased safety over many other methods of working at height. It also offers greater efficiency & flexibility, lower costs, & often negates the need for expensive scaffolding or aerial work platforms.
Download a PDF 
of a presentation to read more details about rope access.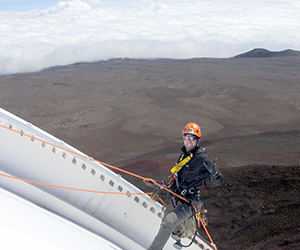 Eric Phillips
Eric is an experienced Rope Access Maintenance Technician, Fall Protection Consultant and Explosive Ordnance Disposal technician. From the mountains of Afghanistan to the summit of Mauna Kea, he has worked on a large variety of sites in extreme environments. He has a background of emergency/hazmat response and holds SPRAT III, OSHA 30, BOSIET and Confined Space Rescue  certifications. His drive is to make the impossible not just possible, but routine.
Trask Bradbury
Trask is the consummate rope man. Whether tied into the sharp end of a single rope on ice or rock, or rigging ropes to make a drop from wind turbines – he is equally at home in the vertical world. Trask has worked and rigged in amongst many industries to include petro/chemical, paper/pulp, bridges, dams, wind turbines, skyscrapers, and grain silos. He has also designed and managed rigging for climbing movies such as Higher Ground and Luxury Liner, both produced by Alstrin Films as well as stunt rigging for Fast and Furious 7. In addition, he is an EMT, and holds a SPRAT level 3, BOSIET, an OSHA 30 and Confined Space Rescue certifications. Trask puts safety above all else.
Master Point Rope Access Partners
"Just wanted to take a moment to thank the Master Point technicians for helping us complete our tank steel inspections successfully. Through their  inspection techniques we have greatly increased the productivity of these evolutions, but more importantly have increased the safety aspect of these inspections. Master Point's highly trained crew was well prepared for the hazards they would encounter and was mindful when there were changes in the plan to keep safety at the forefront. Looking forward to working with Master Point and their team in the future."
"I contacted Trask Bradbury of Master Point Rope Access Solutions 2 years ago while looking for a higher level of training for our Emergency Response Team at the Lafargeholcim Portland Plant.  Our team was relatively new to rope rescue and we needed to find someone that could relate to the industrial environment that we work in and provide us with the tools and knowledge necessary to perform safe rescues in difficult situations.  That is exactly what we found with Trask Bradbury and Eric Phillips owners of Master Point. They are not only phenomenal trainers but also amazing people with extensive experience and knowledge in rope rescue and rope access. They were able to accommodate each of our individual needs in a group setting with patience, perseverance and understanding of each team member's learning style, limitations and strengths. Trask and Eric created time to interact with each of us and always made sure we  understood every scenario that was introduced to us while we acquired the ability to perform the skills necessary to succeed. Our safety was always their number 1 priority. After training was completed the entire team was successfully certified at SPRAT level 1. The opportunity to learn from individuals with so much experience and passion in their field of expertise is priceless. Trask and Eric even made a special trip to the plant to learn more about our process and individual plant site to ensure they would give us the best training and advice possible. We have returned to Master Point for a custom annual refresher training, rope access work at the plant, customized rescue plans and silo inspections. On several occasions we have contacted both Trask and Eric with obstacles and questions and they have always made us a priority, going above and beyond to ensure we were taken care of. We look forward to many future opportunities to train and work alongside Master Point Rope Access Solutions."
Contact Master Point Rope Access Solutions
Master Point Rope Access Solutions
Tradecraft Industries
6145 Broadway Street, #21
Denver, CO 80216
Send a message to Master Point Rope Access Solutions
Verified
Veteran Owned Small Business